today i am linking up with Casey's blog for "on my heart."
join in and link up to her page.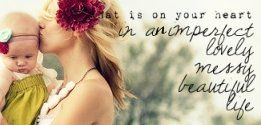 on my heart this friday,



after reading

this post

by danielle at take heart, my heart is encouraged. i desperately want this blog to be where i share about the sweet simplicities of my life as wife and new mommy and were i make the most of my Savior. may i boast in Him and his constant faithfulness in my life. this verse that danielle shared is my hope and prayer...
we do not dare to classify or compare ourselves with some who commend themselves. when they measure themselves by themselves and compare themselves with themselves, they are not wise. we, however, will not boast beyond proper limits, but will confine our boasting to the sphere of service God himself has assigned to us, a sphere that also includes you. we are not going too far in our boasting, as would be the case if we had not come to you, for we did get as far as you with the gospel of Christ. neither do we go beyond our limits by boasting of work done by others. our hope is that, as your faith continues to grow, our sphere of activity among you will greatly expand, so that we can preach the gospel in the regions beyond you. for we do not want to boast about work already done in someone else's territory. but, "let the one who boasts boast in the Lord." for it is not the one who commends himself who is approved, but the one whom the Lord commends.
another thing on my heart is this

conference

.

The theme is

learning how to use your voice in social media for making much of Jesus' nam

e. I am praying and discussing with my sweet husband about how to make this attending happen.
happy friday!
soli deo gloria...
in my life
&
on my blog