today, i am joining the fun over at
this blessed nest
for spring fling!! i missed it last week because of the big move!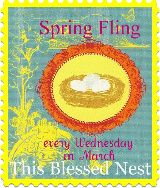 this drink screams spring. i'm ready for spring. ready!
springtime strawberry lemonade
1 cup chopped fresh strawberries, stemmed, washed, and halved
1/2 cup fresh-squeezed lemon juice
1/4 cup agave nectar
2 cups sparkling water
Ice for serving
mint sprigs, garnish
whole strawberries, garnish
puree strawberries and agave nectar in a blender or food processor until smooth and transfer to a pitcher. pour the sparkling water, agave nectar and strawberry mixture, and lemon juice in the pitcher and stir to combine.
chill and serve over ice.
garnish with mint and strawberries.
yield: 4 servings
***
((could not take a picture of it because all my stuff is still in boxes!))