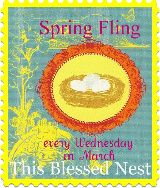 today is the last wednesday of spring fling over at kellie's blog, this blessed nest.
join up and link up on he
r page.
i have loved being part of it each week!
well, the spring fling meal is complete!
(basically a hodge podge of my spring favorites):
spring veggie pizza (i crave this recipe throughout the year)
2 packages of refrigerated crescent dinner rolls
2 tub cream cheese spread
1 package ranch dressing mix
then what ever veggies you want on your pizza...here are a few suggestions:
cherry tomatoes (quartered)
yellow, orange, red, or green bell pepper (chopped)
1. preheat oven to 350 degrees F. Spray cookie sheet with non-stick cooking spray.
2. pat crescent roll dough into cookie sheet. let stand 5 minutes. pierce with fork.
3. bake for 10 minutes, let cool.
4. in a medium sized mixing bow, combine softened creamed cheese, dill weed, onion salt, and ranch dip mix. spread this mixture on top of the cooled crust. arrage veggies of your choice on top of the creamed mixture. cover and let chill. once chilled, cut into squares and serve!
making this asap. love it!
enjoy your spring, everyone! it is such a wonderful time of the year!
spring is nature's way of saying, "let's party!" ~robin williams