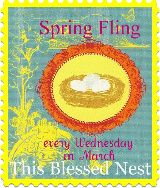 today is spring fling over at kellie's blog, this blessed nest.
i have decided that because i have done a
recipe each week
that going to make a meal out of each of my spring fling posts.

drinks:springtime strawberry lemonade

appetizer: next week!
main course:
asian chicken salad
dessert:hummingbird cake


completely out of order, but when it is all said and done:
you will have a menu for a yummy springti
me dinner.
((which will be ten times better if you eat dinner outside.))

asian chicken salad (slaw)
1 lb. boneless, skinless chicken breasts (cut into pieces and grilled w/ 2 tbsp. oil)
2 pkgs ramen noodles (oriental flavor)
1 bag shredded cabbage
1 shredded broccoli slaw
1 bunch green onions, chopped
2 tbsp. toasted sesame seeds
1 cup almonds (sliced or slivered), toasted
dressing:
1 pkg of ramen seasoning
1/2 cup oil
1 tbsp. sugar
1 tsp. salt
1/2 tsp. pepper
1/4 cup of rice vinegar
2 tbsp. soy sauce
cook chicken. mix dressing. throw together and toss! it's just that easy.
recipe is courtesy of my sweet mom. try it. you will love it.