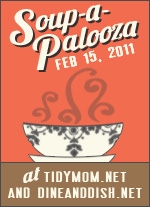 Potato Leek Soup (slowcooker recipe)
ingredients:
4 cups yukon gold potatoes, diced

3 to 4 cups thinly sliced leeks (3 or 4 leeks)

1 bunch green onions, chopped

2 cups chicken broth

4 to 6 slices bacon, cooked, drained, and crumbled

1 cup heavy cream

2 cloves chopped garlic

1/2 thyme

salt and pepper to taste
combine all ingredients and cook on low for 8 to 10 hours. add cream, if used, in the last 30 minutes. taste and adjust seasonings. mash with a potato masher to thicken, or puree for a smooth consistency, adding additional cream or broth if necessary.
quick note: it is so amazingly yummy with some sourdough bread and brie on the side.
(can't forget the cheese!)